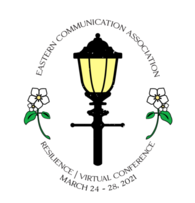 Conference Planning in Uncertain Times
ECA 2021 | September 15th Conference Update

Hyatt Regency Cambridge, Massachusetts
Wednesday, March 24 - Sunday, March 28, 2021
Resilience
Dear ECA community:
The 2021 Conference Planning Team is working hard to create the best possible conference experience for our members. We continue to monitor travel orders and restrictions for our conference location, Cambridge, MA. We're also narrowing our list of possible virtual conference platform vendors.
Here are two important action items for your review:
The submission deadline is October 15th. For more information and to submit your work, visit https://ecasite.org/aws/ECA/pt/sp/convention_attendee_interactive
The planning team would like feedback on your current funding situation and plans to attend the 2021 ECA Convention. You can complete our brief 3-minute survey here:
https://docs.google.com/forms/d/1Te-xx6e1z6N1H_EhbWoRtCH5DNPtbPa9x9GGla1Iqck/edit
Please submit your responses by October 1st, 2020. We'll use this feedback to finalize our plans for face-to-face, virtual, or a combination of mediums for our conference.
If you have any questions, please reach out to Amanda McKendree, Primary Conference Planner, at amckendree@nd.edu.
view all news
News & Notes
10/13/2020
Dr. Gerald Lee Ratliff, age 75, of Rock Island, Tennessee passed away on January 14, 2020 at his home. Gerald was born in Middletown, Ohio on October 23, 1944.
view all events
ECA Calendar
December 11, 2020
Call for Submissions Deadline!
March 24-28, 2021
Hyatt Cambridge
Cambridge, MA
April 27 - May 1, 2022
Hyatt Regency Buffalo Hotel and Conference Center
Buffalo, NY