Convention
Special Events

ECA PHILADELPHIA 2015 CONVENTION SPECIAL EVENTS


Online registration has closed. You will be able to register onsite at the convention hotel.
Payment may be cash, check or credit card.
Note: Community Attendee is the selection for those not registering for the convention.
In addition to the traditional panels and short courses at ECA, we offer these special sessions to add to your experience and give you additional chances to deliberate.
WHYY/NPR Co-Sponsored Distinguished Scholars Panel [*special registration required for this Sunday morning continental breakfast session; registration opens in February 2015.]
Media/Special Broadcast Spotlight Sessions
Wine & Spots
Tweet of the Day
Additional events to be announced!

WHYY/NPR Co-Sponsored Distinguished Scholars Panel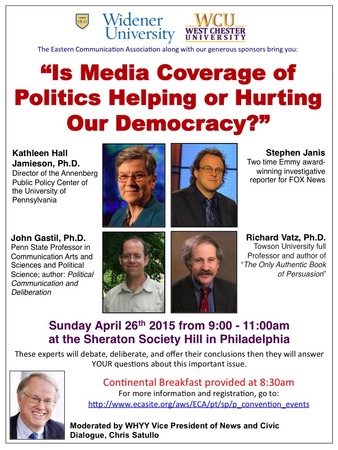 [*special registration required for this Sunday morning continental breakfast session]
ECA has formed a partnership with National Public Radio's local Philadelphia affiliate, WHYY, to co-sponsor a distinguished scholars panel in April 2015. The aim of this partnership is to answer the question, "Is Media Coverage of Politics Helping or Hurting Our Democracy?"
We have gathered the most respected scholars in the area of Politics and Media including:
---

Spotlight Sessions
ECA will "spotlight" four Philly 2015 sessions. These sessions will receive external media attention, special publicity and convention focus, and will be live-streamed to off-site virtual ECA participants (via Google Hangouts).
If you would like your submission to our Convention to be considered as a "spotlight," please indicate this on your submission to the relevant Interest Group Planner. These will be forwarded for consideration to the 2015 Primary Planner.
If you are interested in joining us through a virtual connection to the Convention, please stay posted to this page for updates about session topics and times. Once we receive, evaluate, and select the submissions to be given this "spotlight", we will post a listing of the sessions here.

The sessions will be open to individual participants (yes, attend ECA panels from your desk!) as well as to department groups or classes (allowing your students to participate from their classes or offering specialized training to adjuncts and faculty). Please see the Registration page for details.

L. Meghan Mahoney, Media Access Off-Site Coordinator (MMahoney@wcupa.edu)
---
Basic Course Conference (BCC15)
We are honored in 2015 to host the bi-annual conference. Please see the BCC15 Call for Session Submissions that encourages creative programming and enhances our basic course pedagogy. Keynote speaker, Joseph Valenzano's University of Dayton program was awarded a Basic Course Program of Excellence by the National Communication Association.
---

Wine & Spots 2015
Why on earth did that candidate run that ad? Can you believe that the media ran that story? Wait, is that a spoof or a real commercial? And… are those really sheep in that ad?!
Annually, the Political Communication Interest Group puts on the Wine & Spots deliberative session. In honor of our theme this year, the event will serve as our Friday night special session and be open to the public! Please join us before heading out to dinner for a cocktail (non-alcoholic options always available), heated evaluations, and several good laughs.
Admission to the event is $20 for the public ($25 at the door) but is included in your 2015 Convention registration.
Hamilton Room, 6:30 PM

Appetizers sponsored by Temple University School of Media & Communication (cash bar)
---

Tweet of the Day
We want to hear from you! As your prepare for your trip and while you are with us in Philly, remember to write about it (in 140 characters or less, of course). Our team will select a "Tweet of the Day" the week of the convention and award prizes. Be the first to win and have something waiting for you when you pick up your name badge. Continue to tweet and you might have prizes waiting for you each day.
Begin the conversation about your research, trip, or experience on
ECA's Facebook and Twitter!