ECA Wraps Up Its 108th Annual Convention
A Message From ECA President, Benjamin R. Bates
Our convention theme, "Freedom To… Freedom From..." capitzalizes on the City of Boston as a site rich in the tensions inherent in the concept of <Freedom>. Our panelists and presenters have done well in honoring this theme.
Although freedom is a dual-edged concept, as Ray McKerrow noted in his keynote address, our members are primarily concerned with seeking <freedom from> various forms of oppression and repression. I hope that the good work done at our convention regarding teaching, research, and service will also engender the <freedom to> create worlds in which we wish to live through communication.
The 2017 Convention Planning Team was outstanding. They created a member-focused event that promotes a variety of interactions in our scholarly community. They included scholar-members from every category, from the undergraduate student getting her first taste of being a communication professional to the retiree who keeps coming back to ECA to renew their communicative spirit.
We had 699 individual convention presenters, participating in 228 listed sessions.
The James C. McCroskey & Virginia P. Richmond Undergraduate Scholars Conference was a tremendous success owing to the efforts of Mary Mino and Tom Donlan. Thirty-two colleges and universities were represented, the largest number to date. The highest-sending were Northeastern, Penn State – Schuylkill, and SUNY – Geneseo. Other student involvement at the graduate level was organized by our Grad Poster Session chairs, Valerie Schrader and Heather Ferrara.
Nikki Blau did a tremendous job securing sponsorship for the convention. Book publishers are increasingly reluctant to come to regional conferences, and providing value through sponsorship is becoming an increasingly difficult case to make. Nikki was able to encourage 27 different sponsors to contribute over $33,000.
Six sessions at ECA sought to build explicitly on our connections to Boston. Other connections were built by our second VPs. Jason Edwards and Angela Cooke Jackson found sponsors for informal engagement with the city and found us student volunteers, respectively. Throughout the conference, they ensured that our student volunteers and ambassadors made the operations of the conference flow smoothly. Other students worked with Meghan Mahoney to provide us a strong social media presence.
Angela Hosek's Basic Course Conference—including a neuro-learning workshop with Pratt Bennet, a debate among leaders in the basic course, and GIFTS sessions – allowed our members to identify new ways to address their interest in the basic course.
Other learning opportunities were provided by our short courses. Dante Morelli and Steve Granelli provided opportunities for us to interact with new content to learn new teaching, research, and service strategies.
Our focus on 2-year, community colleges, and regional/branch campuses paid off. In the main conference, in the USC, and in the Basic Course Conference, a larger number than usual of 2-year, community colleges, and regional/branch campus participated. This is a growth area in the academy, and we would be wise to welcome them into our community.
I am very happy to have had the experience of working with this team.
Thank you for coming to ECA Boston, and we look forward to seeing you next year in Pittsburgh.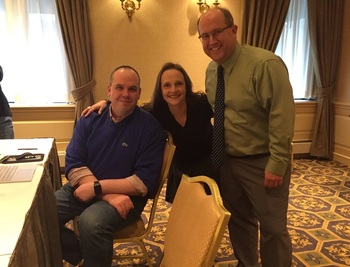 (L-R) Immediate Past President Jason Wrench, Executive Director Cheryl Casey, President Benjamin Bates. Photo Credit: Noura Hajjaj.
view all news
News & Notes
view all events
ECA Calendar
April 25-29, 2018
Omni William Penn Hotel
Pittsburgh, PA
April 10-14, 2019
Omni Providence Hotel
Providence, RI
April 1-5, 2020
Hyatt Regency Baltimore
Baltimore, MD